Prosecutors oversold the case against Dominique Strauss-Kahn. Now they're overselling the case against his accuser.
Translations and Interpreter blamed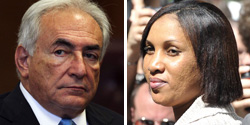 The Manhattan district attorney's office has filed a motion to dismiss the sexual assault case against Dominique Strauss-Kahn. The motion accuses the alleged victim, Nafissatou Diallo, of a "pattern of untruthfulness" marked by "shifting and inconsistent versions" of their encounter in a New York hotel. But the same can be said of the DA's office. Having exaggerated the case against Strauss-Kahn, prosecutors are now exaggerating the case against Diallo. Here are four elements of their story that don't add up.

[A]fter leaving the defendant's room, she had gone directly into another room (2820) to finish cleaning it. She gave specific details, saying that she had vacuumed the floor and cleaned the mirrors and other furniture in that room. She further stated that after completing her tasks in Room 2820, she had returned to the defendant's suite and began to clean it as well.1. Room 2820. The DA's motion accuses Diallo of "continued conflicting accounts" of the incident. It says she told prosecutors three different versions of what she did after being assaulted: one version prior to June 28, a second version on June 28, and a third version on July 27. But if you read the first and third versions (on Pages 11-13 of the motion), you'll see that they don't differ much: In the third version, unlike the first, she said that after being assaulted in Room 2806 of the hotel, she opened Room 2820 briefly to retrieve her cleaning supplies. The only serious puzzle is the June 28 version. Here's how the DA's report describes it:
This version is plainly wrong: Electronic records show that Diallo opened the doors of 2820 and 2806 in the same minute, which wouldn't have given her time to do all that cleaning of 2820. But did she really tell this farfetched story? In an
interview with ABC News
, taped
shortly before July 24
, Diallo attributed the false version to mistranslation. In the 33
rd
minute of the interview, she said that 1) prosecutors used a different translator on June 28, 2) they asked her if she had spat out Strauss-Kahn's semen in Room 2820, 3) she told them she hadn't, since she had already cleaned that room, and 4) she told them she had opened Room 2820 to get her supplies. It's easy to see how a mistranslation could have happened: Diallo described how she had cleaned Room 2820, and the prosecutors, through the translator, thought she was saying she had done this after the assault, when she reopened its door.
The DA's motion rejects this explanation. It says that Diallo showed an ability to understand English and that she didn't correct the interpreter's translation. It adds that on July 27,
For complete story, click
here